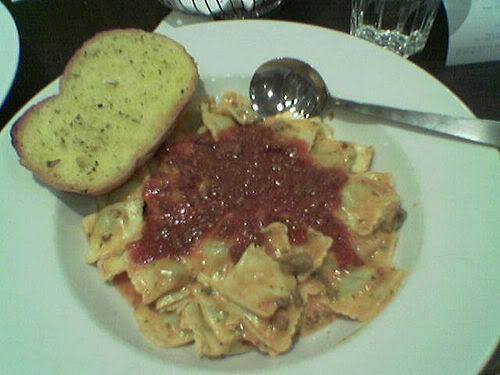 Trader Joe's
always has many products from or of the Cisalpine region, and a number of them were featured in it's "Fearless Flyer" for February.
Bolognese Stuffed Ravioli
The Outside On The Inside!
Like most recipes that originate in one country and migrate to the cuisines of other countries, incarnations of Spaghetti Bolognese are as varied as the cooks who make them. We've tasted a good many Bolognese variations over the years, but until now we've never tasted anything quite like Trader Joe's Bolognese Stuffed Ravioli.
Bolognese Stuffed Ravioli take the concept of Bolognese and turn it inside out—or, more accurately, outside in. We've taken fresh, thin, Italian-style ravioli and stuffed them with a hearty meat sauce—tomato, ground beef, onions, carrots, celery, butter, garlic & herbs with Parmesan cheese. The pasta cooks in minutes to a wonderfully al dente finish, and the filling is so rich and satisfying that you really don't even need a sauce—a drizzle of our President's Reserve Extra Virgin Olive Oil and a dusting of freshly grated cheese are an excellent way to accent the pasta without distracting from its stellar flavors.
We're selling each nine ounce package of Bolognese Stuffed Ravioli for a mere $2.99—you'll find them in our refrigerated case.
Arugula Pizza
Arugula Pizza Imported from Italy
Pizza may not have originated in Italy (Greece is the most likely source, though history is still unclear), but the Italians most assuredly get credit for elevating a mere flatbread to an art form. Trader Giotto's Arugula Pizza, the newest in our array of imported Italian pizzas, further elevates this humble pie.
Our Arugula Pizza features a hand-stretched, wood-fired crust, topped with five ferociously flavorful formaggios: mozzarella, grana padano, manchego, provolone and pecorino. Cherry tomatoes and arugula are placed atop the cheeses, making a colorful statement that, when paired with the white of the cheeses, begins to resemble the color scheme of the Italian flag? Coincidence? Hmmmm…
Because the pizza is flash frozen immediately, both the arugula and the tomatoes look and taste fresh when you bake it at home—which takes less than 10 minutes in a pre-heated oven, by the way. We like to rev up the fresh flavors even more by drizzling some of our Fat Free Balsamic Vinaigrette atop the freshly baked pie. Trust us; it'll make your taste buds tingle. Serve Trader Giotto's Arugula Pizza with a salad for dinner, or cut it into smaller slices and serve as a memorable appetizer course. Memorable, too, is our price of $4.29 for each 15.3 ounce Pizza. You'll find it in our freezer case.
Tuscano Marinara Sauce
Tuscano Marinara SauceBig can! Small price!
When it comes time to dress your pasta, you want a sauce that's fresh-tasting, free of preservatives and vibrant in flavor as well as color. You could spend several hours at the stove in pursuit of perfection, or you could buy a can of Trader Giotto's Tuscano Marinara Sauce.
This is a sauce for tomato purists. It begins with perfectly ripe, fresh-from-the-vine, California-grown tomatoes. (We really do mean "fresh-from-the-vine"—these tomatoes are "sauced" within hours of harvest.) The tomatoes are gently peeled using natural steam, then blended with extra virgin olive oil and a savory blend of herbs and spices. Nothing else is added. Unlike many canned sauces, ours has no added citric acid or preservatives, so the overwhelming flavor is exactly what you'd get if you made it from scratch—fresh tomatoes.
Try Tuscano Marinara Sauce on our High Fiber Pastas, on a pizza or in a calzone, in your next lasagna or a on meatball sandwich. We're selling each big, 28 ounce can for a mere $1.79, a price that seems too good to be true for a sauce that is so truly good. You'll find it in our grocery aisle.
Creamy Blue Cambozola
Cambozola is a delicious blend of the assertive flavor of good blue cheese with the creamy richness of triple cream soft ripened cheese. (Think Gorgonzola crossed with Camembert and you'll have a pretty good idea what you're getting here.) Cambozola is produced by a dairy that's been in the business of making premium quality cheeses for nearly one hundred years. That history and craftsmanship combined make one of the most unique cheeses we've seen.
And though the cheese is unique, its uses are countless. Enjoy Cambozola just as you would a Brie or creamy blue—on a cheese tray, in wedges alongside a green salad or fresh fruit, or melted over a grilled steak. And for a real treat, try Cambozola and sliced Prosciutto on a baguette or sourdough bread. We're selling Cambozola in random weight pieces of about seven ounces for $11.99 per pound, every day—to give you an idea of what a great value this is, we've seen Cambozola selling for nearly twice this amount in other stores.
Asiago Cheese
Asiago CheeseNew World meet Old World. Old World, meet New.
After World War I, much of the cheesemaking infrastructure was destroyed in the Italian mountain town of Asiago. Needing to make a living and seeing vast opportunity, many of the dairy-farming, cheesemaking families of the region uprooted themselves and moved to the upper Midwest of the United States, where they soon established themselves and their distinctive cheeses as a force to be reckoned with. Asiago, the namesake cheese of their hometown, led the way in this Italian-American rivoluzione de formaggio.
Trader Joe's Asiago is made for us in Wisconsin using milk gathered within a 30 mile radius. It's handcrafted and aged for five months to achieve its signature sweet, nutty flavor that's just a touch sharp. This is a great cheese to serve on a platter, and, with ripe pears and a loaf of crusty bread, makes a wonderful Euro-style lunch. It is also an excellent grating cheese and adds a distinctive flavor to pizzas and mac & cheese. We're selling random weight wedges of Trader Joe's Asiago for $5.99 a pound, a terrific price, every day.
Amusant Bubbly Pink Moscato
Amusant Pink Moscato Amusant Bubbly Pink Moscato is currently only available in our stores where wine is sold.*
Is there a special occasion you'd like to celebrate? A special someone you'd like to toast? Or perhaps you're just feeling bubbly? Amusant Bubbly Pink Moscato will fit right in to any of these scenarios. This is a bubbly wine that's made primarily with Moscato grapes, so its aromatic bouquet greets you with every sip. The wine's off-dry balance (meaning sweet, but not too sweet) leads to flavors of apricot, peach, bergamot (think Earl Grey tea), a touch of mint and hints of orange blossom. These flavors get a boost from the fine bubbles, and the wine concludes with a clean and crisp finish.
Serve Amusant Bubbly Pink Moscato with your celebratory meal or save it for dessert. It's a natural with sweets, especially if they're chocolate. We're selling each bottle for $5.99*. Ooh, chocolate, bubbly wine and a great price… we're in love.
*Amusant Bubbly Pink Moscato is $6.49 in KY & GA; $7.99 in OH. Alcohol availability & price may vary due to state laws, taxes, shipment fees & other such stuff. (If we could, we would.)
"Just Sauce" Turkey Bolognese
"Just Sauce" Turkey Bolognese Ever have one of those nights when the last thing you want to do is cook dinner? One of those nights where regardless of your mood, dinner must, in fact, find its way to the table? One of those nights where even putting a pot of water on the stove can feel like a monumental effort? We understand. And we can help.
Trader Joe's "Just Sauce" Turkey Bolognese is about as close to homemade as you can get without standing in front of the stove stirring a hot pot for hours and hours. It's a traditional Bolognese sauce, slow-cooked with tomatoes, dry white wine, celery, onions, and carrots and exactly the right ratio of basil, oregano, thyme & fennel. We've lightened it up a bit by using turkey meat in place of the traditional combo of beef, pork & veal. It's not light on flavor, though. This chunky sauce is positively bursting with fresh, vibrant flavors. It's ready to dress your favorite pasta (we suggest our High Fiber Pastas), it makes a terrific dip for crusty bread, and it's a tasty, protein-rich companion to roasted or grilled vegetables for a quick, simple dinner.
Speaking of quick and simple, Trader Joe's "Just Sauce" Turkey Bolognese is ready to eat in about five minutes (less if you microwave it), and requires quite close to no effort on your part. See? We told you we could help. Even the price is helpful—to your wallet, that is. We're selling each 12 ounce package for $3.29, every day. You'll find it in our freezers.
**************************************************
Ben Gazzara 1930-2012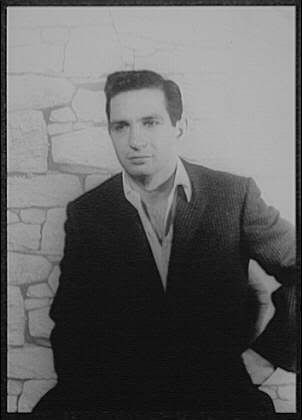 I always thought of Ben Gazzara as a great actor. He had a style all of his own. He wasn't what we would call a "Cisalpine," likely Neapolitan in ancestry, but he was a man who reminds us of men from a different time. So many men today, especially celebrities, act so squirrely. I always admired Ben Gazzara. He actually turned down a lot of roles which ended up being really big ones, so he could have been much more famous than he was, which he later admitted he was "a fool." But sometimes people do what they do, and it's where their mind was at the time. He almost seemed to be a cross between a "brooding tough guy," as he was so often described, and a "personable man." Although I recall him in roles from the 70s, I remember him more for his later roles, like in 'Roadhouse" with Patrick Swayze. That was a good example of a Ben Gazzara character. There are a lot of items about him, and of his particular acting style, on YouTube. "Ben was one of the few actors that you can't take your eyes of whenever they're in a scene. He has some of the most expressive eyes you've ever seen in the movies" (YT user seltaebgirl).
.