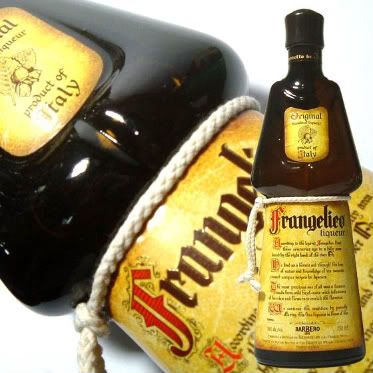 Frangelico Liqueur
From the label:
According to legend Frangelico lived three centuries ago in a hilly area bounded by the right bank of the river Po, and the ridge of mountains dividing Piedmont from Liguria.
Although we are not sure of his real name, we do know that the local farming population used to call him Frangelico because, he lived as a hermit and he greatly loved nature.
Through his love of nature and deep knowledge of its secrets he was able to create many original recipes for liqueurs and drinks.
The most precious of them was a liqueur made from the wild hazel-nuts growing in the woods, exquisitely blended with infusions of other berries and flowers to enrich the flavour.
We carry on the tradition of preparing the ancient liqueur and in doing so we want to keep alive the name of the man who created it for the first time.
.