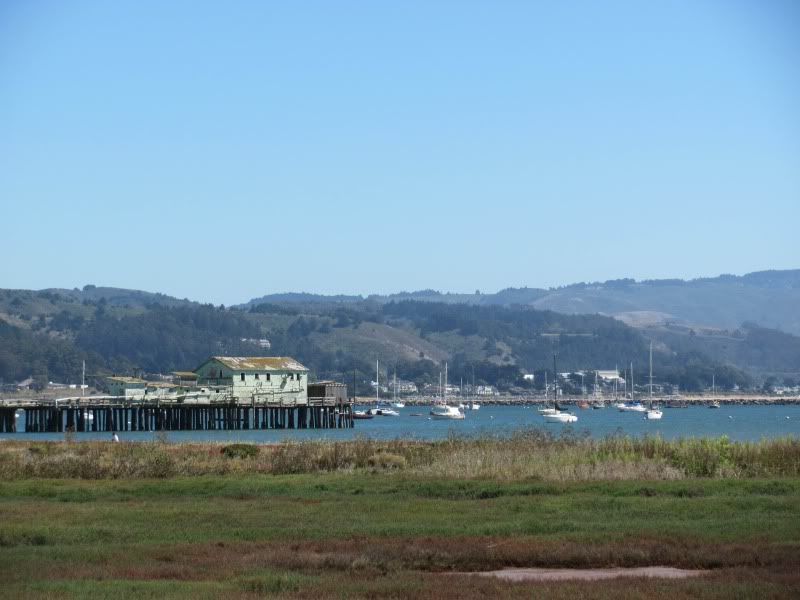 Just a shot of Half Moon Bay; obviously that's not the place.
Half Moon Bay Joe's Restaurant
I had lunch at this restaurant yesterday, for the first time in a long time. I think I can give some type of reasonable review based on yesterday, past experience, and getting a further idea from reviews. Half Moon Bay is a nice town to visit in general, a basically rural area of San Mateo County along the coast, easy to reach via 92 West. Half Moon Bay Joe's is located right along Highway 1 (2380 S. Cabrillo). It's a very clean and comfortable location just visually, parking-wise, and there's a lot of elbow room inside.. especially during non-breakfast/lunch/dinner hours. The large windows all along three sides provides a bright, cheerful atmosphere; as well as its sizable booths along the outer perimeter. It's open daily from 7 AM to 10 PM. It's an Italian restaurant with a number of seafood items. They have pretty much anything you would look for. I'm old enough to remember some local Italian restaurants where the founding family actually ran the day-to-day operations, and that's true with Joe's. There's perhaps some Catalan/Argentine connection to the family I think.
There's a sizable breakfast menu, and many pragmatic lunch and dinner dishes. It has a solid "4" rating, and deserves more like a 4.5. Some of those Yelp reviewers take themselves way too seriously, so 4 out of 5 is a very good rating. The prices are reasonable and they serve you a lot. I think it's great. You won't go away hungry. From past times I have visited there, the sauce was something that I specifically remember. I had a Calamari steak sandwich yesterday, which came with fries and a choice of salad or clam chowder. The sandwich was good, with two big halves served, each double-thick. I had New York-style cheesecake for dessert, and it was big and very tasty without being too rich. The person with me ordered a reuben sandwich, and thought it was great. The good-sized menu is on the link above. The meal came pretty fast too, and the staff was extremely friendly, polite, and helpful without overdoing it. I would really recommend it.
.