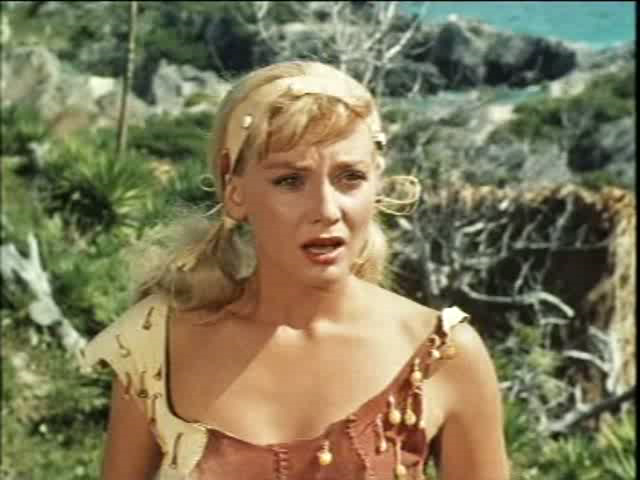 Diane Cilento - probably a Cisalpine
The problem with identifying people of Cisalpine ancestry is three-fold. One, there's often no way to be certain. For example, Olympic gold-medalist Alpine skier Julia Mancuso appears to be Cisalpine from appearance and where she is from. She is actually half Calabrian and half.. Irish, German, something or another.
Two, it's not necessarily all that important anyway. Enrico Fermi was from Rome, and is actually of Piedmontese ancestry. There have been famous and important Cisalpines in the United States far beyond what logic would dictate. However, a community doesn't absolutely need these types of role-models.
Three, with many races or ethnic groups, there can exist a type of ungenuine "cult of celebrity." Certain people will run around trying to "make claim" on as many famous people as possible. Often these celebrities could care less about their ancestry in the first place! I'm tempted to give a few colorful and humorous examples of this, but something tells me that it's not a good idea. Suffice to say that those individuals who you associate with on any concern, are really the important people for that concern.
I thought that I would share just a small sampling of certain well-known people who I have come across or were suggested to me by others as possible Cisalpines. After this, I'm not going to keep track of this subject as a general rule. Just for the record, a "Padanian-American" is a "European-American" with some genuine roots in the former "northern nations." It's safe to say that not all of the following people are of Cisalpine ancestry.
Grammy nominee Francesca Battistelli, from New York City, is a star of the Christian music genre. Attorney, Prosecutor, and Author Vincent Bugliosi, from Minnesota, is most famous as the Prosecutor in the trial of Charles Manson. Graciano Rocchigiani is a former world super middleweight and light heavyweight boxing champion. He was born in Germany of Italian parentage, and looks like a German which makes me think his parents may have been from perhaps Lombardy. Actress Rene Russo, from California, is Italian on both sides, presumably Cisalpine.
Geraldine Ferraro - probably not a Cisalpine
Someone seems to have told me that young actress Brittany Curran, from Massachusetts, has some Cisalpine roots. The late World War II Medal of Honor recipient Mike Colalillo, from Duluth, Minnesota, is an Italian-American. Duluth is an area with deep roots for people of Lombardian and Cisalpine ancestry. Tony Iommi is the former guitarist for the heavy metal band Black Sabbath (lead singer Ozzy Osbourne). Born in Birmingham, England of Italian parentage.. possibly Cisalpine. Actor Jim Caviezel, from Washington state, has some Romansh roots. The Romansh language is of Latin origin, and was once much more prevalent in northeast Italy and Switzerland.
Someone seems to have told me that Canadian actor Enrico Colantoni was of Cisalpine descent. Actress Beverly D'Angelo, from Columbus, Ohio, always has seemed to me to have Cisalpine roots. I really don't know, but I loved 'National Lampoon's Vacation'.. which has an almost cult following even today. The late Geraldine Ferraro is a former vice presidential candidate for the Democrat Party, and an Italian-American from a town about sixty miles north of New York City. Her mother was from Campania in Southern Italy, but it just seems that she may have Cisalpine roots on her paternal side.. perhaps not. The late Jeno Paulucci was an important businessman and entrepreneur from St. Louis County, Minnesota (county seat is Duluth). He founded over seventy companies, including Bellisio Foods, and was likely of Lombardian or Cisalpine ancestry.
The late former Major League Baseball Shortstop and Manager Jim Fregosi was born in San Francisco and raised in San Mateo County. As you can see, he has a long resume with numerous records, and was very likely of Cisalpine ancestry. A few years ago, there was a long article in the San Francisco Chronicle about the history of "San Francisco Italian" Major League baseball players.. which I lost. They were virtually all Cisalpines, and it was quite a history; however, we must admit that the most famous was a Sicilian, Joe DiMaggio. The late Australian actress Diane Cilento was an Academy Award Nominee for Best Supporting Actress ('Tom Jones'; British; 1963; with Albert Finney and Susannah York). She was well known to American audiences, and it's a pretty good bet that she was a Cisalpine.
Dante Gabriel Rossetti was a famous poet, illustrator, painter and translator. He was born in London of Italian parentage, and was very likely of Cisalpine ancestry. The lifelike detail in his art was truly amazing, as well as beautiful. James A. Baffico--born in San Francisco in 1942 when the city was heavily Cisalpine--is a television soap opera director, producer, actor, and script writer. Film composer Marco Beltrami, from New York City, has a very Cisalpine surname. Sabina Magliocco is a professor of Anthropology and Folklore at California State University, Northridge. Born in Topeka, Kansas to Italian immigrant parents, she may be of Tuscan descent.
.