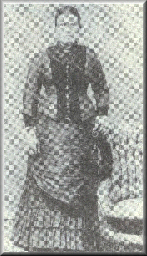 Taken from AmadorGold.net:
In the rural settlements of the foothills, miners and single men often lived in boarding houses owned and operated by fellow Italians. Some of the well-known Italian boarding houses of the past were Calaveras Hotel in Angels Camp; Bisordi's Itala Hotel in Sonora; the Torino Hotel in Nevada City; the Trabucco Hotel in Mt. Bullion; the Colombo Hotel in San Andreas and the Europa Hotel in Sonora.

Olivia "Grandma" Rolleri came to Sonora from Genoa in 1860 at age 16. Left with 11 children after her husband died in 1884, she became a prominent businesswoman who established the Calaveras Hotel in 1887 and owned several cattle ranches and mining interests. The Calaveras Hotel contained more than 50 rooms, a butcher shop, saloon and barber shop under one roof. Sunday dinners were famous and people came from across the county for family homestyle dinners and to take home "ravioli," She operated the hotel for 40 years until 1927.
**************************************************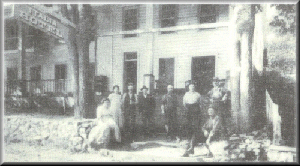 Taken from FindAGrave.com:

Olivia Elena Antonini Rolleri
Birth: Aug. 1, 1843, Italy
Death: Jun. 10, 1927
Angels Camp
Calaveras County
California, USA

Olivia Rolleri was a much beloved, early pioneer businesswoman of Calaveras & Tuolumne Counties. She had many nicknames: "Little Olivia"; "Little Oliviette" and "Grandma" Rolleri.

In the late 1850s, she and her mother and sister sailed from Genoa, Italy around Cape Horn to San Francisco and then made their way to Sonora to join Olivia's father who was working there. Soon after, she met and married Gerolamo Rolleri (aka Jerome & James.) They were involved in mining, farming, cattle ranching, operated a ferry and opened a general store.

When her husband died in 1888, Olivia was left with 10 children to care for. In 1889 she purchased a rooming house, one of the buildings on the Calaveras Hotel site. During the next 20 years, Mrs. Rolleri purchased three adjacent buildings that made up the Calaveras Hotel. Rooms were 25-50 cents.

The restaurant was known for it's outstanding food (especially her ravioli dinners) and became famous throughout the area. Dinners were "all you can eat" including dessert and all the wine you can drink for 25 cents.

The consummate entrepreneur, she purchased local ranches to grow fruit, vegetables, raise hogs and chickens, run cattle and opened a butcher shop. The children helped on the ranches and in the hotel.
Advertisement in the 1923 Bret Harte yearbook.
Known as a generous humanitarian, she befriended those less fortunate. "Grandma" Rolleri held out a helping hand for those in need.

She died in Angels Camp on June 10, 1927.

A special thank you to Mozelle "Rusty" Rolleri who kindly verified the above information.
Burial:
Altaville Protestant Cemetery
Angels Camp
Calaveras County
California, USA
Plot: Sec B1 - Plot 79
**************************************************
Rolleri Landscaping Products
Rolleri Vineyard

.