Mead

Mead (pron.: /ˈmiːd/; archaic and dialectal "medd"; from Old English "meodu" Ukrainian: Мед or Russian: Медовуха or Lithuanian: Midus), also called honey wine, is an alcoholic beverage that is produced by brewing a solution of honey and water. It may also be produced by brewing a solution of water and honey with grain mash, which is strained after fermentation. Depending on local traditions and specific recipes, it may be flavored with spices, fruit, or hops (which produce a bitter, beer-like flavor). The alcoholic content of mead may range from about 8% ABV to 18%. It may be still, carbonated or naturally sparkling, and it may be dry, semi-sweet or sweet.

Mead is known from many sources of ancient history throughout Europe, Africa and Asia, although archaeological evidence of it is ambiguous. Its origins are lost in prehistory. "It can be regarded as the ancestor of all fermented drinks," Maguelonne Toussaint-Samat has speculated, "antedating the cultivation of the soil."

Claude Lévi-Strauss makes a case for the invention of mead as a marker of the passage "from nature to culture." Mead has played an important role in the beliefs and mythology of some peoples. One such example is the Mead of Poetry, a mead of Norse mythology crafted from the blood of the wise being Kvasir which turns the drinker into a poet or scholar.



History



The earliest archaeological evidence for the production of mead dates to around 2000 BC. Pottery vessels containing a mixture of mead, rice and other fruits along with organic compounds of fermentation were found in Northern China. In Europe, it is first attested in residual samples found in the characteristic ceramics of the Bell Beaker Culture (ca. 2800 – 1800 BC).
The earliest surviving description of mead is in the hymns of the Rigveda, one
of the sacred books of the historical Vedic religion and (later) Hinduism dated around 1700–1100 BC. During the Golden Age of Ancient Greece, mead was said to be the preferred drink. Aristotle (384–322 BC) discussed mead in his Meteorologica and elsewhere, while Pliny the Elder (AD 23–79) called mead militites in his Naturalis Historia and differentiated wine sweetened with honey or "honey-wine" from mead. The Spanish-Roman naturalist Columella gave a recipe for mead in De re rustica, about AD 60.

Take rainwater kept for several years, and mix a sextarius of this water with a pound of honey. For a weaker mead, mix a sextarius of water with nine ounces of honey. The whole is exposed to the sun for 40 days, and then left on a shelf near the fire. If you have no rain water, then boil spring water.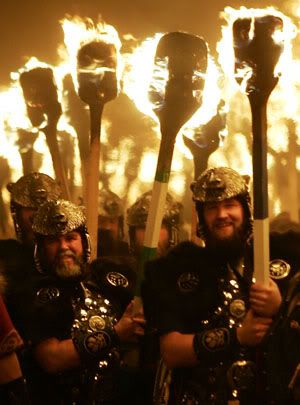 Around AD 550, the Brythonic-speaking bard Taliesin wrote the Kanu y med or "Song of Mead." The legendary drinking, feasting and boasting of warriors in the mead hall is echoed in the mead hall Dyn Eidyn (modern day Edinburgh), and in the epic poem Y Gododdin, both dated around AD 700. In the Old English epic poem Beowulf, the Danish warriors drank mead. Later, taxation and regulations governing the ingredients of alcoholic beverages led to commercial mead becoming a more obscure beverage until recently. Some monasteries kept up the old traditions of mead-making as a by-product of beekeeping, especially in areas where grapes could not be grown, a well-known example being at Lindisfarne, where mead continues to be made to this day, albeit not in the monastery itself.
Etymology



The English word mead derives from the Old English meodu, from Proto-Germanic meduz, from Proto-Indo-European *médʰu (honey, fermented honey drink). Slavic med / miod , which means both "honey" and "mead", (Czech, Slovak, Serbian, Bosnian, Bulgarian, Croatian: med vs. medovina, Polish 'miód' pronounce [mju:t] - honey, mead) and Baltic medus "honey"/midus "mead", also derive from the same Proto-Indo-European root (cf. Welsh medd, Old Irish mid and Sanskrit madhu).




Festivals



Mazer Cup International Mead Competition and Tasting Event -- Sponsored by Gotmead.com, this event is held every year in March in Boulder, Colorado. It is the largest mead event in the world, with over 300 home meads and over 200 commercial meads in competition. There is a Friday tasting event with the gold medal winning commercial meads from the previous year, plus feature meads from around the world.

Real Ale Festival in Chicago, Illinois, includes categories for mead as well as cider and perry.

Woodbridge International Mead Festival - Sponsored by local residents, it claims to be the only mead festival east of the Mississippi. While few types of mead are available, all are home-brewed and go through a rigorous judging process.




In literature



Mead is featured in many Germanic myths and folktales such as Beowulf, as well as in other popular works that draw on these myths. Notable examples include books by Tolkien, George R. R. Martin and Neil Gaiman. It is often featured in books using a historical Germanic setting and in writings about the Viking era. Mead is mentioned many times in Neil Gaiman's 2001 novel, American Gods; it is referred to as the drink of the gods. Also, in the books of the Inheritance Cycle by Christopher Paolini, it is often drunk by Eragon Shadeslayer at feasts in honor of him. Mead is also referenced in The Kingkiller Chronicle novel series by Patrick Rothfuss. The protagonist Kvothe is known to drink metheglin. The non-existent "Greysdale Mead" is also drunk, although it is merely water.


[See above link for distribution, varieties, and local variants; see also Mead of poetry]
.