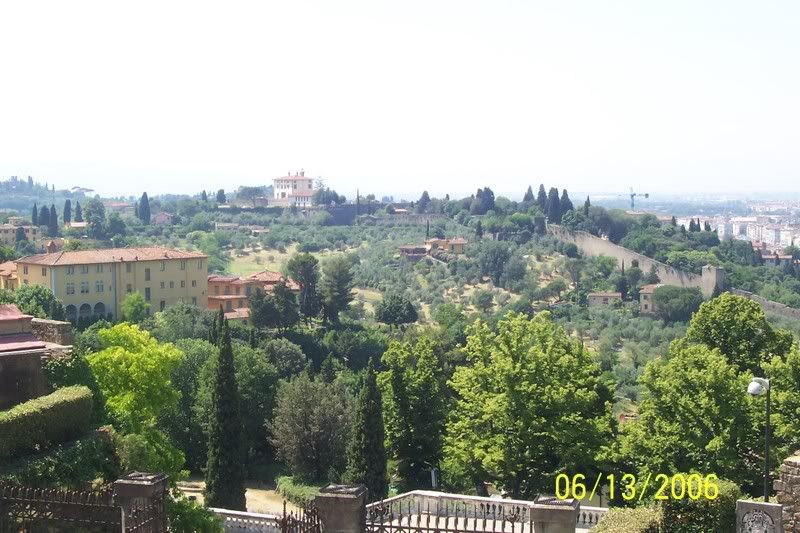 Best New Hotspots in Florence, Italy
From September 2011 By Maria Shollenbarger - 'Travel & Leasure' - September 2011 [Appeared as 'Renaissance City' in T+L Magazine]
Bonan also designed J. K. Place Firenze, the boutique hotel on the Piazza di Santa Maria Novella that, after eight years, continues to evolve. Its cocreator, Ori Kafri, is a sharp 34-year-old entrepreneur with his hands in, among other things, publishing and art galleries. J. K.'s well-connected general manager, Claudio Meli, launched Bravo Concierge service in 2007 so he could finesse clients' time in Italy beyond their J. K. Place stay. On any given evening one might find a small cross-section of the city's art, fashion, media, and business worlds commingling in the hotel's living room and restaurant; on Sundays at lunchtime, the terrace proliferates with friends and families. With its alchemy of ease and style, exclusivity and openness, the hotel has become a Florence institution—one that's spreading, with an outpost in Capri, a planned opening in Rome in late 2012, and aspirations to launch projects outside of Italy in London, New York City, and Tel Aviv (birthplace of Kafri's mother and father).
IO Osteria Personale, on the Borgo San Frediano, by contrast, opened just months ago, but it already has the feel of an institution in the making. Owner Matteo Fantini studied and practiced veterinary medicine, but dreamed for years of starting a restaurant. So last December, enlisting 23-year-old chef Nicolò Baretti, he did just that. IO organizes its menu by primary ingredient (meat, fish, vegetables) rather than by course. Fantini, who chats happily with diners for half an hour at a time, draws whimsical art naïf deconstructions of the day's dishes onto chalkboards above the sparsely elegant table settings. The facile presentation is in winking contrast to the sophistication of the food: whole pigeon embellished with smoked pig's cheek; delicate warm seafood salad served with minced panzanella and asparagus gelato.
About a mile down the river in San Niccolò there's a sliver of storefront marked ZEB, outside of which a line forms most days around noon. Inside, Giuseppina and Alberto Navari, mother and son, prepare dishes of simple rustic perfection the way they've probably been prepared for a hundred years. It's the space itself—white, conspicuously designed, equal parts chic diner and fancy urban food emporium—that startles, given that this food is more often paired with scuffed-wood shelving, dusty Chianti flasks, and rickety tables. Instead, customers perch on chrome-and-kidskin stools and point to what they want behind the glass-and-steel counter; and while Alberto pours a nice something from Bolgheri or Montecucco, Giuseppina, with a lambent smile like a benediction, serves up polpettine, lampredotto, and carciofi.
Not that there's no room in this evolution for tradition of the most established, proto-Florentine sort. Some of the city's oldest winemaking families—the Frescobaldis and Antinoris, Mazzeis and Ricasolis, Corsinis and Incisa della Rocchettas—collaborated with IMG Artists last year to launch Divino Tuscany, an ultraexclusive annual wine festival. The four-day event saw guests from 17 countries sample prized vintages from 50 of the region's top producers. There were private concerts, tours, and lavish dinners at family palaces around the city. The weekend culminated in a party hosted by Sting and Trudie Styler at Il Palagio, their estate in Figline Valdarno, 45 minutes outside the city—a hot ticket also attended (and, in a few amusing cases, crashed) by a nice representation of Florentine society.
But if you were to canvass the locals at any of these settings as to the most conspicuously successful manifestation of a putative New Florence, many would point you in the direction of the Fondazione Palazzo Strozzi. Created in 2006, the FPS has in five years hosted a clutch of exhibitions that have earned international praise; last fall's Bronzino retrospective—the most comprehensive to date of the Mannerist painter's work—garnered unprecedented attendance and requests from major American and European museums to host it. Here, in the courtyard café of the imposing 15th-century Strozzi family palace that houses the foundation, you're likely to find James Bradburne, the FSP's tall, dandy, fiftysomething Anglo-Canadian director, holding an impromptu meeting in a fluent Italian-English mix or simply observing the ebb and flow of visitors though the massive twinned double doors. "This place used to be closed to the public when there wasn't an exhibition on; there were no plants, no café, no shop," Bradburne notes. "Now it's open all the time, and it's a living building. It gets 25,000 visitors a week. And we aren't even targeting tourists."
The FPS is an Italian experiment in institutional management. Its board of directors represents both the public and private sectors; among them are Florence's museums superintendent Cristina Acidini and hotelier Rocco Forte. "We have a lot more freedom," Bradburne says. "The board tends to say 'yes' rather than 'no.' There's a level of transparency and immediacy that's"—he smiles—"not typically Italian." He says he was given two clear mandates. "One: Bring international-caliber exhibitions to Florence. As it happens, we don't bring them here, we produce them here. Two: Give the palazzo back to the Florentines."
"It needed someone as bright as James to make it happen," says Leonardo Ferragamo one morning at Ferragamo headquarters, in the Palazzo Spini-Feroni. Besides holding various executive positions within his family's company and chairing Lungarno Hotel, Ferragamo is president of the Associazione Partners Palazzo Strozzi, one of the FPS's founding entities—and, as such, one of Bradburne's bosses. "This started five years ago because of our frustration with Florence not doing its best in terms of managing its assets," he said. "It piqued the pride of certain among us, enough so we finally acted."
The FPS is also home to the Centro di Cultura Contemporanea Strozzina. To run this gallery, Bradburne enlisted Franziska Nori, a former director of Frankfurt's Museum for Applied Art, who has made CCCS a showcase for topically provocative, intelligent exhibitions that have moved contemporary art from relative obscurity to near the forefront of Florence's public cultural offerings—significant for a city in a constant struggle to escape from under the shadow of the Renaissance it spawned. "The goal [of FPS] is to be a contemporary institution in a Renaissance city," Bradburne says. "One doesn't negate the other. The backdrop is the inspiration."
It remains a delightfully inescapable backdrop. Across the river, below the brushstroke cypresses surrounding San Miniato, is the 14th-century San Niccolò tower, the southeastern entry to Florence during its golden age. On July 1, after a 40-year closure and a $400,000 restoration effort, it was reopened to the public as part of Mayor Renzi's improvements program. Stairs lead to its 148-foot summit, where one can gaze over the entire city. The view isn't terribly dissimilar to the one enjoyed from nearby Piazzale Michelangelo. All the monuments, all the familiar landmarks are spread out below—bathed in the same pellucid sunshine, cradled in the same gentle hills. It's still the Florence we all know and love, but amazing how a small change of perspective can make it seem just a bit different, somehow new.
Guide to Florence
Stay
Great Value
Casa Howard Florence Guest House
18 Via della Scala; 39-06/6992-4555;
casahoward.com
; doubles from $180.
Il Salviatino
21 Via del Salviatino, Fiesole; 39-055/904-1111;
salviatino.com
; doubles from $760.
J. K. Place Firenze
7 Piazza di Santa Maria Novella; 39-055/264-5181;
jkplace.com
; doubles from $490.
Palazzo Vecchietti
4 Via degli Strozzi; 39-055/230-2802,
palazzovecchietti.com
; doubles from $440.
St. Regis Florence
1 Piazza d'Ognissanti; 877/787-3447 or 39-055/27161;
stregisflorence.com
; doubles from $1,386.
Villa San Michele
This timelessly elegant Fiesole stalwart is more than keeping up with the competition. 4 Via Doccia, Fiesole; 39-055/567-8200;
villasanmichele.com
; doubles from $1,200.
Eat
Il Santo Bevitore
An elevated interpretation of the trattoria, this new two-room restaurant is always packed. 64/66R Via di Santo Spirito; 39-055/211-264; dinner for two $90.
'ino
There's no better place to pop in for an expertly executed panino and a glass of red from a boutique producer. 3R Via dei Georgofili; 39-055/219-208; lunch for two $18.
IO Osteria Personale
167R Borgo San Frediano; 39-055/933-1341; dinner for two $112.
Ora d'Aria
On a tiny lane in the shadow of the Uffizi, chef Marco Stabile gathers traditional ingredients and reimagines them in wildly creative ways. 11R Via dei Georgofili; 39-055/200-1699; dinner for two $168.
Zeb
2R Via San Miniato; 39-055/234-2864; lunch for two $53.
Shop
Flair
The best spot for Italian design inspiration. 6R Piazza Carlo Goldoni, 39-055/267-0154.
Luisa Via Roma
A Florence classic that's been recently renovated, with Felice Limosani as creative consultant. 19/21R Via Roma; 39-055/906-4116.
See and Do
Cascine Gardens
Via delle Cascine; no phone.
Divino Tuscany
For more information on next year's event, to be held in May, visit
divinotuscany.com
.
Fondazione Palazzo Strozzi/Centro di Cultura Contemporanea Strozzina
Piazza degli Strozzi; 39-055/277-6461.
Le Murate
Piazza della Madonna della Neve;
lemurate.comune.fi.it
.
San Niccolò Tower
Piazza Giuseppe Poggi.
.