Lake Antorno
Lago d'Antorno is located in the Dolomites; the province of Belluno in the Veneto.
*************************
Revisioning drawing of Lisa del Giocondo
Lisa del Giocondo
Lisa del Giocondo (née Gherardini; June 15, 1479 – July 15, 1542) was an Italian noblewoman and member of the Gherardini family of Florence and Tuscany. Her name was given to the Mona Lisa, her portrait commissioned by her husband and painted by Leonardo da Vinci during the Italian Renaissance.
Little is known about Lisa's life. Born in Florence and married in her teens to a cloth and silk merchant who later became a local official, she was a mother to five children and led what is thought to have been a comfortable and ordinary middle-class life. Lisa outlived her husband, who was considerably her senior.
Centuries after Lisa's death, the Mona Lisa became the world's most famous painting and took on a life separate from Lisa, the woman. Speculation by scholars and hobbyists made the work of art a globally recognized icon and an object of commercialization. In 2005, Lisa was definitively identified as the model for the Mona Lisa.
************
'Dark family history behind Mona Lisa's sad smile revealed in new book'
'Leonardo da Vinci never finished the Mona Lisa because he injured his arm while fainting, experts say'
*************************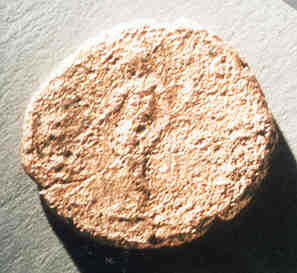 Roman coins from Breathitt County, Kentucky
The above three coins were found in a cave shelter in Breathitt County, Kentucky, by Mr. Michael Wayne Griffith of the same county. Mr. Griffith has found another 9 or so similar coins, but the three depicted are the best preserved of the group.
A few years ago the three depicted were examined hands-on by Norman Totten, Professor of History, now Emeritus, at Bentley College. Totten identified the two thinner coins (the top two above) as antoniniani, a type of bronze Roman coin minted between 238 and 305 A.D. The obverses (left photos) depict an unidentifiable emperor wearing the distinctive "solar crown" of the period. The reverse of the top one, in the right photo, depicts two figures standing facing what apparently is a central altar, while that of the middle one depicts a female standing figure facing left with a cornucopia in her right hand.
These would originally have had a silver surface, long since gone. The third coin is thicker, and depicts a bust facing right, wearing a laureate wreath rather than a crown. The reverse, according to Totten, is perhaps a figure of a centaur walking to the right and looking back. Its flan (the metal disk from which coin is made) seems to be of a North African (Egyptian) or Middle Eastern type. This coin probably dates to a similar period to that of the two antoniniani (singular antoninianus). While Totten is confident that the coins are genuine, he warns that such coins are easy to obtain from coin dealers.
In 1963, a small hoard of Roman coins from the same approximate period, and in a much better state of preservation, was found during bridge construction on the north bank of the Ohio River, at the Falls of the Ohio, opposite Louisville, Kentucky.
Breathitt Co., population 16,100 in 2000, is on the upper Kentucky River, in the southeastern portion of the state. The county seat is Jackson, pop. 2,490. Two of the larger towns are named Quicksand and Lost Creek, but the 2000 U.S. Census couldn't find either. The nearest metropolis is Hazard (which may or may not be the inspiration for the "Dukes of Hazzard" TV series), pop. 4,806, and one county to the south.
Mr. Griffith is difficult to contact, but is known to Mr. David Feldman, President of Feldman Lumber Co. in Lancaster, Ky.
The author wishes to thank Prof. Norman Totten, Dr. John Payne, of Berea, Ky., and Mr. David Feldman of Lancaster, Ky., for their invaluable assistance.
************
Roman Head from Calixtlahuaca, Mexico
Roman coins from the Falls of the Ohio River, Indiana
Roman shipwreck near Rio de Janeiro, Brazil
*************************
Gianfranco Rosi vs Duane Thomas 03-01-1988
Boxing Syko
WBC World Super Welterweight Title Fight
Venue: Palazzo Dello Sport, Genoa, Liguria, Italy
************
Gianfranco Rosi
Gianfranco Rosi (born 5 August 1957) retired Italian boxer who was a two-time world champion in the light-middleweight division.
Professional career
Rosi turned pro in 1979 and won the WBC light-middleweight title in 1987 by decisioning Lupe Aquino. He lost the belt in 1988 when he was dominated by Donald Curry. Rosi was down once in 2nd, 4th and 8th and down twice in 7th, failing to answer the bell starting the 10th round.
In 1989 he won the IBF light-middleweight title by outpointing the undefeated Darrin Van Horn. He went on to successfully defend the title an impressive 11 times. In 1994 he had a technical draw against Vincent Pettway, and in the rematch later that year Pettway KO'd Rosi, ending his long reign.
In 1995 he took on WBO light-middleweight title holder Verno Phillips and won a decision, but Rosi failed a drug test and Phillips was reinstated as champion. The result of the bout was changed to a No Contest. In 1997 he lost a rematch to Phillips and retired.
In 2003 he came out of retirement, and finally retired in 2006 at the age of 49 with a pro record of 62 wins (18 KOs), 6 losses, and 1 draw.
Amateur career
Rosi had a record of 94 wins - 2 losses - 4 draws Highlights:
1976 Italian Light-Welterweight Champion
1977 Italian Welterweight Champion
************
Born in Assisi in the province of Perugia (Umbria), Gianfranco Rosi took a 32-1 record into a European Welterweight Championship bout in 1984 with future world welterweight champion Lloyd Honeyghan from the UK. Rosi lost his first big bout, but won his next nine--including winning the European Junior Middleweight title and defending it twice--and took a 41-2 record into a bout with world champion Luge Aquino of Mexico, a much more dangerous opponent than Honeyghan. Rosi won a unanimous decision to take the belt.
There were so many outstanding boxers worldwide in the 80s, especially between 147 and 160 pounds. Next he defended the belt against another very hard punching boxer, former champion Duane Thomas of Detroit, winning by knockout. Although he lost in his next defense against former welterweight champion Donald Curry, he eventually won the world title back and defended it eleven times before losing.
*************************
The Discovery and Restoration of Leonardo da Vinci's Long-Lost Painting "Salvator Mundi" | Robb Report



Robb Report

Leonardo da Vinci is one of history's greatest artists and thinkers. Only about 15 of his paintings are known to exist and one was thought to be lost forever. Leonard painted that masterpiece, called "Salvator Mundi" (Savior of the World) around 1500. It was owned by no less than three kings and, in 1763, it disappeared. This video tells the story of that incredible painting, how it was rediscovered in 2005, and what happened when it went to auction at Christie's in November 2017.

READ MORE: http://bit.ly/LostDaVinci

Secret Histories of Rare Treasures spotlights the stories behind items that amaze historians, elude collectors, and intrigue audiences. Through original and never-before-seen footage, in-depth archival research, and expert interviews, Robb Report brings these awe-inspiring narratives to life. Developed in coordination with Robb Report's editors and produced by the brand's in-house custom-content and video agency Robb Report Studio, the editorial series explores the hidden lives of extremely rare and amazingly valuable items often found in the pages of Robb Report.

Subscribe to Robb Report: https://bit.ly/2rx0Icw

CONNECT WITH ROBB REPORT

Web: http://robbreport.com
Facebook: https://www.facebook.com/robbreport
Twitter: https://www.facebook.com/robbreport
Instagram: https://www.instagram.com/robbreport
Pinterest: https://www.pinterest.com/robbreport
.
*************************
[This portion was originally from the CCNA blog - entitled 'Disciplina Etrusca' by Voltumna - May 31, 2015]
This band named itself after the supreme god of the Etruscan pantheon, "Voltumna" (also called "Veltha"), which I just covered a bit on the other blog ('Etruscan women, mythology, and the god Veltha'). Black Metal music is a lot like the old Heavy Metal music in that some of it is truly good, while most you would probably have to really like the genre to appreciate. This particular song wouldn't be my first choice to promote, but I love the theme! The 'Disciplina Etrusca' was the text of ancient Etruscan polytheism, which was made up of the three "books of fate."
Beyond the larger Black Metal genre, are the sub-genres of "Celtic Black Metal," "Viking Black Metal," etc., etc. One thing this music offers is a clear link to folk-identity, in this case "Etruscan Black Metal." The band's lyrical theme is defined as "Etruscan Paganism, Mythology, Modern Decay"; and it's genre as Black/Death Metal. This additionally suggests a type of Gothic element to it. Dark symbolism can be beautiful, and could be an outlet for people, primarily younger people, who feel alienated by society.
This song is brand new; just released today in fact. The band is from Viterbo, Latium, and has been around since 2009. Viterbo was one of the city-states of the Etruscan civilization. In a Western society which makes a special point to squash identity (individual and collective), I think it's great that people can turn to their ancestors for inspiration and strength. It's not just Black Folk Metal, but there are many other genres which are folk-oriented in this manner. I mean something a little beyond a band merely playing folk music from a certain culture. There's often a rebel-aspect to it.
If you don't like Black Metal, maybe seek out some of the other types of music within this concept. There's one band from Sardinia called Atrium Animae which is under a genre called "Atmospheric Neoclassical Darkwave," which is hauntingly beautiful.. and is based on what appears to be a Medieval Catholic style. There is Irish Black Metal, Odinic music of many sounds, Slavic, you name it. You might find something you like within one of these folk-spiritual-identity sub-genres.
I like music of just about every texture and harmony, but I don't like "sad music." There are enough things in this life to be sad or depressed about; especially when we lose people. Something inspirational is great, especially when there's that blood-folk connection with a spiritual tie-in. Black Metal is almost like fighting music. Perhaps we need some of that in our lives, because often life is a war. Evolutionary struggle.
Voltumna official website
Voltumna YouTube channel
Metal-Archives.com band profile
Voltumna facebook (official; in Italian mostly)
Voltumna facebook (in English)
.