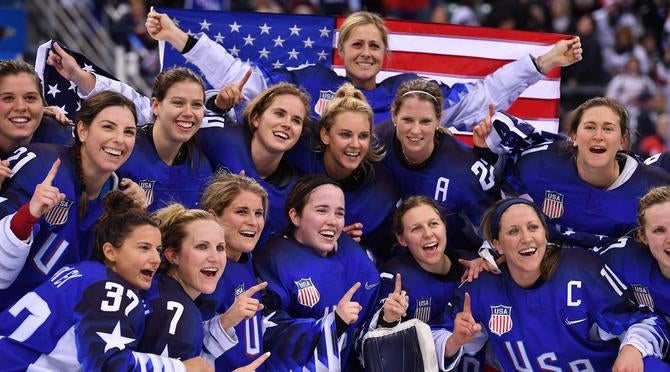 '2018 Winter Olympics: Team USA women's hockey scores historic wins on and off ice'
The gold medal victory was an absolutely perfect ending to a landmark year for the program
Pete Blackburn - CBSSports.com - February 22, 2018
The last 12 months have been a roller coaster ride for the United States women's national hockey team, but on Thursday in Pyeongchang, that ride reached its ultimate peak -- an Olympic gold medal.
Team USA defeated Canada, 3-2, in a thrilling shootout win in South Korea to earn their first gold medal in 20 years. It was the third consecutive Olympics in which the American and Canadian women faced off in the final, and this one came 38 years to the day of the "Miracle On Ice."
For the American women, there was no miracle necessary. Thursday's gold medal game was earned on the strength of skill, execution, perseverance, heart and fearlessness. It was a perfectly fitting way to wrap up what has been an incredible last year for the Team USA women, who have earned major victories both on and off the ice.
con't...
************
Dani Cameranesi
One of the numerous important role players for the USA team--I almost want to say "fighters" due to the manner of last evenings game--was 22 year old Dani Cameranesi from Minnesota. She was one of six ex-Minnesota Golden Gophers on the team. "Cameranesi" is of Marchese origin, like a famous Minnesota native Robert Mondavi. There was a sizable migration Lombards and Marchese to eastern Minnesota way back when, from Duluth to Minneapolis-St. Paul.
.